Pet Party is an online game created by Plinga co.
Game Play
Edit
The user starts with a pet which they can customize to their liking and recieve a house starting with one room. In order to get more they must either level up and complete various missions or buy them with gems. The main purpose of the game is to collect coins and purchase items to care for your pet such as: Hygine items, food, clothing, accessories, furniture, garden supplies, appliances, and much more. To earn coins the player must log-in daily, complete daily mission, take out trash in your own or other peoples homes, playing games or get love gifts from love trees.
You can also earn coins by working in other players gardens by clicking on the scare crows, the player must pick one of three tasks to preform which are: weeding, tilling or watering plants. If the the garden you choose to work on has no plants you can't work on it and get coins. Pet Petty's garden pays 400 coins and other players gardens pay 200 coins. It takes one hour to get coins if the user chooses to leave earlier than the time given they will not earn any coins. If the player has finished the full hour of work they can go home and recieve their pay, but if the other user sees the other pet still loitering in their garden, they may kick out the working pet and recieve half of their pay.
There are three games which the user can choose to play which are Perlious Platforms, Wack-A-Pet (Also known as Bang Bang Hall), and Party Soccer.
Starting to Play
Edit
Pet Party is an online game where players live a life of their own with their own pet. At first, the players shall go to Groovy Groomers and stylize their pet, give them a name (not needed at that time, can be given anytime) and a gender. After that the players can do whatever they want. Players must need coins to purchase things they want,they will be given 2000 coins at the beginning of the game to purchase things for their needs. There are 11 stores in the main street, which are given in the bar as icons in the bottom blue menu.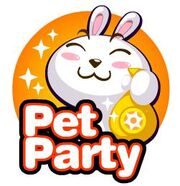 Controlling your Pet
Edit
Controlling your pet is quite simple. To move your pet the user must click the left button of the mouse wherever you want and the pet will walk over there.
Daily Login
Edit
Players will get some prizes when they log in everyday. Players will get a special prize if they log in for five days in a row. Prizes may include Gems( also known as Sappires, Coins, Daily Log-in Medals, Lucky points, ect.
Mini Games
Edit
There are three games which the user can choose to play which are Perilous Platforms, Whack-A-Pet (Also known as Bang Bang Hall), and Party Soccer. Each game can only be played five times, but the player can increase the amount of times playing a game by purchasing a 'Magic Game Card' at Maddie's Magic shop for 9 Gems.
There are special missions for the player's pets to do. Missions can be seen by clicking on the scroll icon on the top left corner below your level bar and above to your name. are separated by two. Daily Missions are the first.  Available Missions are the second one and they are missions that you can choose to do. Every mission, except the Daily Missions, have time limit. Once you choose to do a mission, the time will start to count down. Missions must be done in their time. Once a mission's time has expired they will go back to Available Missions column and you have to pick them up again. Some missions have Level limits. These missions require a level to pick them up. Once you finish a mission you will get EXP, coins, items, lucky points or diamonds.
Daily missions follow a pattern every day; Visit PetPetty,  feed/groom/play with/compliment three friends'  pets, play Party soccer/perilous playforms/whack-a-pet three times, Take a photo of your pet/your pet and a friend, and plant in the garden/click on a passerby. The only daily mission to reward diamonds is 'photograph your pet', which gives one diamond as well as coins and EXP. 'Click on a passerby' only works if the pet you click on gives you something, like lucky points or coins.