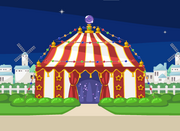 Maddie's magic shop is the third store from the fountain in the shopping street. It is run by Maddie. On Girlsgogames.com, Maddie is not shown in the store like other shopkeepers are and is instead replaced by the girl that takes you to the magical synthesis house.
Merchandise
Edit
Maddie's magic shop sells many different kinds of items, all of which do different things.
Marriage photo frames - takes a picture of your pet and their mate. (can only be purchased when married)
Chalkboards - can be used to draw on and hang drawings in rooms of the house. On websites that disables mail features, players write messages on the chaklboards and send them to friends - the chalkboard keeps its message. There is one chalkboard that can be purchased for 1680 coins, and only uses white chalk, but others that cost diamonds can draw in at least 128 set colors, and can become invisible so that only the drawing shows. Chalkboards can be written on once the inventory is closed.
Potions - Potions can be fed to a pet to give them effects that other players can see, like making them sparkle, or making butterflies and flower petals float around them.
Letters - Used to send mail to other players. Mail features are disabled on some sites.
Inter-dimensional portal - opens up a secret chamber in the house. Two other portals can be made to open two more secret chambers in the magical synthesis room.
Cards - Cards can do things like making a room bigger, moving items to the inventory, and effecting your pet's relationship. They are used by dragging them to the house room.
House decorations - things you put in your house for looks. They serve no other purpose.
Theme boxes - boxes that hold items from a set. The item given is randomly chosen from the set. These items can be anyhting from clothes to furniture and wallpapers.
Log-in prizes - items that can be purchased with log-in ribbons, recieved from signing in every day for five days. These are either furniture items or items that give your pet a small pet of its own that follows it around.
Wings - Clothing items that make your pet fly in the room, stores and on the street.
Lucky chests - chests that are opened with lucky points. They give items that pertain to missions recently given out.
Magical synthesis house
Edit
The magical synthesis house uses items and parts to make other items.
Synthesis items

| Item to make | items required | drops | flowers | leaves | magic stone | magic sand |
| --- | --- | --- | --- | --- | --- | --- |
| cool space door | inter-demensional portal | 20 | 20 | 20 | | 0 |
| Butterfly wings | inter-dimensional portal | 20 | 20 | 20 | 3 | 3 |
| time-conversion space door | blue pet party fighter, black pet party warrior | 25 | 25 | 25 | | |
| Blue pet party fighter | pet party pink fairy maiden, magic elf queen, blue elf queen | 25 | 25 | 25 | 1 | |
| black pet party warrior | pet party zombie, lovely pet party clown, pet party galesaur | 25 | 25 | 25 | | |
| Snow white | prince charming, the queen | 25 | 25 | 30 | 5 | 3 |
| the queen | cinderella, the princess fiona, doc, Alice | 25 | 25 | 30 | 1 | 2 |
| prince charming | the little match girl, the mermaid, bashful, sleeping beauty | 30 | 30 | 15 | 1 | 2 |
| wonderland space door | inter-dimensional portal | 30 | 25 | 25 | | |
| sun ferris wheel | fly wings | 25 | 25 | 25 | 2 | 2 |
| rainbow wings | fly wings | 25 | 25 | 10 | 2 | |